Simple Chicken in Creamy Mushroom Sauce
Simple Chicken in Creamy Mushroom Sauce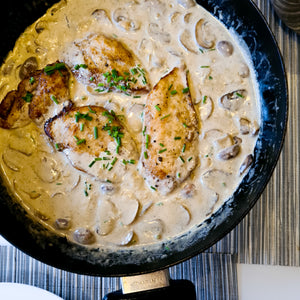 Chicken in a creamy mushroom sauce, topped with fresh chives... This is a luxuriously indulgent meal and pairs beautifully with roast or air-fried potatoes to soak up the delicious rich sauce
 Serves 4
You can shop the ingredients here!
Ingredients;
For the chicken
Salt (to taste)
Black pepper (to taste)
70g Flour
2 tbsp Butter
For the sauce 
Method;
Cut each chicken breast in half
Coat each side lightly in flour
Then fry in butter on a medium heat for about 2 1/2 minutes on each side (just cooked through)
Remove from the pan, cover and keep warm
In the same frying pan, add the remaining butter and cook the mushrooms for about 4 minutes (until golden brown)
Then crush the garlic in the pan with salt and pepper and cook for a further minute
Add the wine and cook until the alcohol smell is gone
Add the chicken stock and cook on a high head. Then add the cream on a medium heat to reduce for 2 minute.
Add the chicken back into the pan to warm back up, covering the chicken in the sauce. Lastly, garnish with chives and enjoy!