Easy Apricot Jam
Easy Apricot Jam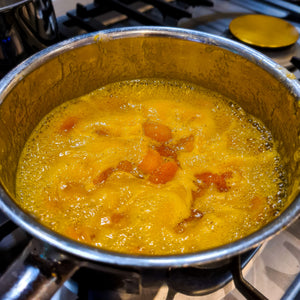 Everybody loves a sweet and seasonal apricot jam. We love this on our croissants, toast, and all of our pastries! This is the ultimate way to preserve this delicious stone fruit. 
You can shop the ingredients here!
Ingredients;
Method;
Chop up the apricots into small pieces, removing the stones
Place the apricots into a saucepan and coat with the lemon and caster sugar
Turn the heat high until the mixture comes to a foaming bubble
Then turn down the heat, stirring occasionally until the mixture thickens
Spoon into sterilised jars and seal while hot. Leave inside the jars upside down to cool completely
Once cool store in the cupboard, or fridge when opened
Serve with your favourite accompaniment and enjoy!