Curried Cod
Curried Cod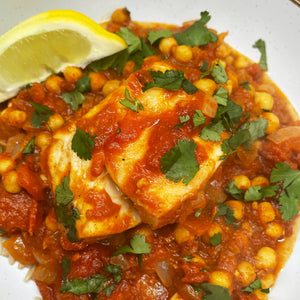 A super quick and easy, no mess one pot meal. Perfect for a mid-week healthy meal.
You can shop the ingredients here!
Ingredients
Method:
Chop the onions and cook them in a lidded frying pan on a high heat for a few minutes.
Whilst your onion cook, take your tbsp of chopped ginger and chop a little more finely (or how you would prefer). Crush the garlic and stir the ginger and garlic into the onions, adding the curry powder last. Cook for 1-2 minutes until fragrant.
Stir in your chopped tomatoes and chickpeas, lower the heat to medium high and cook for 8-10 minutes until the mixture thickens, stir occasionally.
Whilst your sauce is cooking, roughly chop your coriander, enough to sprinkle over the entire dish.
Once the sauce has thickened, top with the cod, try to get it coated in the mixture without the cod touching the bottom of the pan, cover with a lid and cook for a further 5-10 minutes, until the fish is cooked through
Once cooked, scatter over the lemon zest and coriander and serve with a lemon wedge.