Seasonal Sage and Onion Stuffing
Seasonal Sage and Onion Stuffing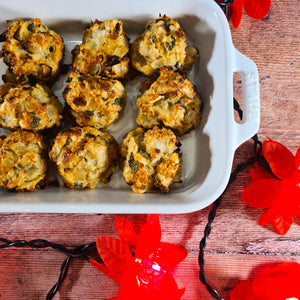 The perfect accompaniment to your festive roasts (or any excuse really)! This DELICIOUS sage and onion stuffing, of course using our fresh sage! 🌱
You can shop the ingredients here!
Ingredients;
Method;
Pre-heat the oven to 180C
On a low heat, fry the oil and butter in a frying pan. Add the onion and bay leaf for 10 minutes until the onion is soft
Crush the garlic and add to the pan to cook for 5 minutes. Then, add the sage and cook for a further 1 minute. 
Leave to cool slightly
In a food processor, blend the bread into breadcrumbs
Once the onion mixture is cool enough to handle, stir in the breadcrumbs and a beaten egg
Divide into approximately 12 balls and place on a baking tray. Cook for 25 minutes 
Serve and enjoy!