Sausage rolls
Sausage rolls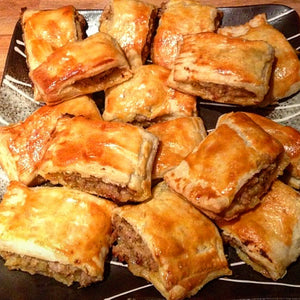 Who doesn't love a sausage roll? Delicious, easy to make and a real crowd pleaser, we're going to be making at least one batch of these over the festive season, at Watts HQ.
Ingredients:
Method:
Preheat your oven to 200
Melt the butter in a non-stick pan with a splash of olive oil to stop it burning.  Add the onions to the pan and scatter with salt and cook until soft and translucent, stirring every now and again to prevent them catching.
Put the sausage meat in a large bowl and add the dried thyme.
Add the Tabasco, onions, Lea & Perrins and the salt and pepper.
Mix all of the ingredients together until thoroughly combined (as above)
If you're using a block of pastry rather than pre-rolled dust the work surface with flour and roll out until about the thickness of a pound coin- this is thinner than you think so might be worth checking.
Cut the pastry rectangle in half width ways and place a sausage of sausage meat along one edge of each strip of pastry leaving a slight border, perhaps 2-3cm.
Fold the pastry over so the edges meet and then crimp the edges with a fork to seal. Then transfer to a baking tray lined with baking parchment, cut into bite-sized pieces and brush thoroughly with beaten egg. Bake in the oven until golden brown- about 15-20 mins.