Salad Niçoise with asparagus
Salad Niçoise with asparagus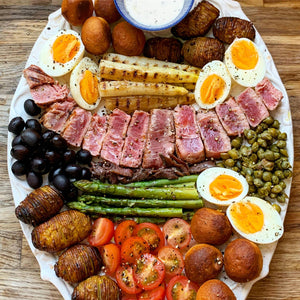 Salad season is upon us and we plan to make the absolute most of it! We've expanded our fish range to include these beautiful Albacore tuna steaks (amongst many whole fish and fillets) and one of our favourite ways to serve them is in Salad Niçoise. We switched out the traditional green beans for asparagus because quite frankly, with the season so short, we take every opportunity to use it that we can! It looks seriously impressive but actually very easy to make and can be done in advance and scaled up and down depending on how many you're catering for.
Ingredients:
Kentish green asparagus 
Capers
Method:
Preheat the oven to 200 and prepare your hassleback potatoes. *Top tip* slice a strip off the bottom of the potato to stop it rolling around and place in between two wooden spoon handles - this ensures you don't cut all the through them and can slice them extra thin, meaning they'll get more crispy!
Line a tray with foil and place the potatoes on there. Drizzle with olive oil and a pinch of Maldon sea salt and roast for 20-25 minutes.
While the potatoes are cooking boil the eggs for 6.5 minutes and add the asparagus after 2 minutes before draining and adding back to the warm pan with a little butter to coat it, season well and put aside.
Plunge the eggs into cold water to stop them cooking any more, then peel.
Heat a griddle pan and drizzle the tuna steaks in olive oil and season with salt and pepper. If using a griddle it's important to oil the fish rather than the pan to prevent excessive smoking. Cook for 3 minutes on each side if you like it 'blushing' (pictured) or to taste, then slice.
Assemble your salad on a serving dish or platter with your dressing of choice.