Ryan Thompson's Brioche Buns!
Ryan Thompson's Brioche Buns!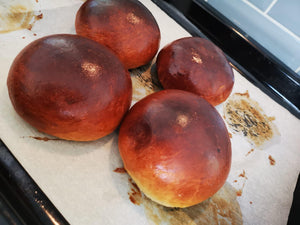 Fancy something a little more challenging ahead of your weekend BBQ?? Why not try your own home-made brioche buns! The perfect accompaniment to any burger (and perhaps even our Nick Wood Ultimate Burger!)
400g - Strong flour
57g - Sugar
9g - Salt
16g - Yeast
60g - Milk
200g - Whole egg
200g - Butter


1. Add the flour, eggs, sugar, yeast, milk and salt to the mixing bowl and mix on low speed for 2 minutes (do not let the salt touch the yeast before mixing).
2. Mix again on medium speed for 8 minutes till the dough does not stick to the sides anymore.
3. Add the diced butter and mix till incorporated.
4. Mix on medium speed for 4 minutes.
5. After this the dough should stretch and make a smooth "window pane".
6. Place the dough into a bowl and cover with a cloth and allow to prove for 1 hour at room temperature.
7. After this place in the fridge overnight.
8. The next day remove from the fridge and scale 80g balls of dough.
9. Roll to shape and space out onto a baking tray.
10. Place into a switched off cold oven and place a pan of hot water in the bottom to create steam.
11. Leave inside for 1hr to prove till doubled in size.
12. Remove from the oven and Glaze with egg wash and set the oven to heat to 180°C.
13. Once heated place the brioche inside for 15 mins till evenly golden .
14. Allow to cool and enjoy!