James Crank's Ribeye steak with Marmite butter!!
James Crank's Ribeye steak with Marmite butter!!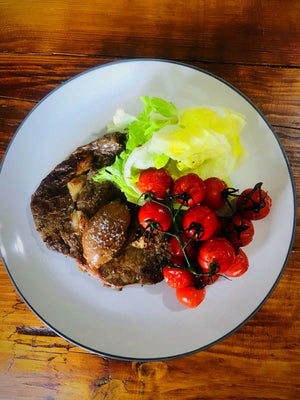 We knew when we asked James to join us in creating some fantastic dishes he would give us some absolute winners, but my goodness this is amazing! A definite must try recipe at home for any lock-down date night!
Ingrediants
Method:
Mix even quantities of marmite and softened butter until totally combined and smooth then place back in the fridge to firm up a little while you cook
Preheat the oven to 180c and remove the steak from the fridge to get it to room temperature
Place the vine tomatoes in a roasting dish, drizzle with olive oil and season with salt and pepper then place in the pre heated oven and cook for 5-6min then turn the oven off and leave the tomatoes in there to keep warm and carry on cooking.
Heat your frying pan up, season the steak with salt and pepper then add a good glug of oil to the pan.
Cook the steak on one side to your liking then once you turn the steak in the pan and add a sprig of thyme and a couple of cloves of crushed smoked garlic and a few cubes of butter and baste to your liking then remover the steak from the pan and rest for a few minutes before serving.
To serve quarter the iceberg lettuce and drizzle with olive oil then take the vine tomatoes form the oven and then the steak, finish off by adding a spoon full of the Marmite butter on your steak.