Ryan Thompson's Basque Cheesecake
Ryan Thompson's Basque Cheesecake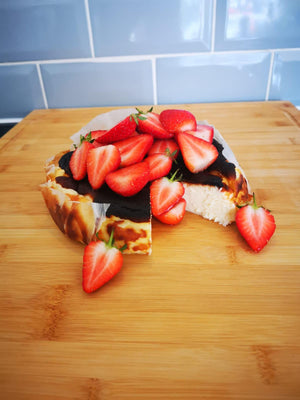 Everyone loves a good cheesecake, and what better one to try than that of The Grove hotel's Executive Pastry Chef!
Ingredients
675g - Cream Cheese
250g - Sugar
4 - Whole Eggs
375g - Double Cream
30g - Flour
2.5g - Salt
Method

1. Mix all ingredients together except the flour until smooth.
2. Gradually incorporate flour.
3. Pour into a pre-lined 10inch grease-proof paper lined tin.
4. Bake in the oven at 200°C for roughly 40 minutes – the cheesecake should be nicely golden over the top with a slight wobbly to the center.
5. Allow cooling in the fridge for 1 hour.
6. Half the strawberries and sprinkle with sugar; leave for 45 mins outside the fridge to macerate.