Andy Aston's Salad of Courgettes, Grilled Radish, Apricots & Almond
Andy Aston's Salad of Courgettes, Grilled Radish, Apricots & Almond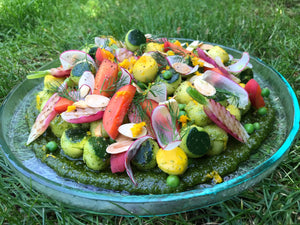 With the recent news that summer isn't cancelled and we may even be able to have a holiday we expect many of you have switched from lockdown eating to getting back in shape. This salad is pure health and is a meal in itself or lovely as a side dish. All of the ingredients are available on our shop and are linked below.
Serves 6
Ingredients
2 green courgettes – Washed and dried
2 yellow courgettes – Washed and dried
1 bunch of radishes – Washed and trimmed
150g almonds – Oven or pan-roasted till slightly golden – Retain 50g for finishing dish
1 bunch dill – pick a handful of the top of the dill, keep covered with a wet cloth for finishing the dish, the remaining is for the pesto
1 garlic clove – Peeled and finely sliced
4 apricots – washed, halved, pit removed and cut into 6
60g peas – fresh if you can get them, but frozen are fine
Sea salt
Cracked pepper
Method
You will need a melon baller, scoop out as many small balls as you can from the courgettes. Retain the trimmed courgettes.
Blanch the courgette balls in salted water for 1 minute, drain then place into iced water, and remove after a minute and leave to dry on a clean cloth or kitchen towel.
Cut half of the radishes into halves (Lengthways), place flesh side down onto kitchen towel to remove a little moisture
Heat a griddle pan, place the halved radish (white flesh down) onto the pan, push down, then turn the radishes to the other side to give you a cross grill mark, each one will take about 30 seconds
Using a Japanese mandolin (and guard) finely shave the rest of the courgettes and place into a small bowl of iced water
Bring a pan of salted water to a boil, add the courgettes, blanch for 12 seconds, and remove onto kitchen towel
Place the dill, garlic, 50g courgettes trimmings, ½ the orange zest, most of the almonds, salt and olive oil into a blender, blend for 35-40 seconds till nice and green and pesto consistency
Please remember to retain a small amount of each ingredient, which you will use for garnishing the plate
Plating up:

Place all of the ingredients into a mixing bowl, add a spoonful of the almond pesto, mix, and taste for seasoning.
Once you have your serving plate, spoon on more of the almond pesto, be generous and spread evenly around the centre of the plate.
Finish with the retained, courgettes, radishes, almonds, dill, apricots, peas, orange zest and a good twist of cracked pepper. See our fruit and veg boxes in Kent.