Creamy Pumpkin & Lentil Soup
Creamy Pumpkin & Lentil Soup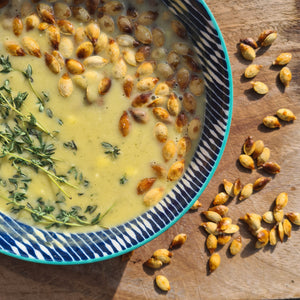 This is our favourite pumpkin dish this year... Creamy, dreamy pumpkin and lentil soup with thyme and toasted pumpkin seeds! 
You can shop the ingredients here!
Ingredients;
Method;
Begin by chopping the pumpkin into 2cm sized pieces, chopping the onion, and preparing the hot vegetable stock. Remove the leaves from the stems of the thyme.
In a pan fry in olive oil the onions until golden brown, then add in the pumpkin, garlic cloves, lentils and thyme. Finally, pour over the vegetable stock, salt and pepper, and cover and simmer for 25 minutes.
Using a hand blender or food processor, mix until smooth and creamy. Then add the Mascarpone Cheese and optional ingredients and mix again.
Serve with some thyme leaves sprinkled on top with some crusty bread!