Cheesy Brussels Sprout Gratin
Cheesy Brussels Sprout Gratin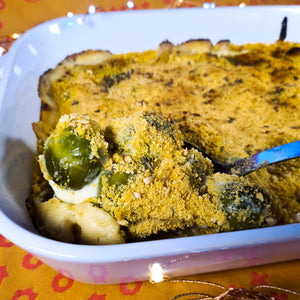 Creamy, cheesy, Christmassy Brussels Sprout gratin!
You can shop the ingredients here!
Ingredients;
Method;
Trim and prep the sprouts
Boil the sprouts in salted water for 4 minutes, drain and set aside
Heat the oven to 200C
Chop the banana shallots finely and cook in the butter on a low heat in a large pan until golden
Stir in the flour and gradually add the milk to the mixture, mixing thoroughly until fully combined
Finally, season the mixture and add the cream, mustard and cheddar.
Place the brussels sprouts into a tray and cover with the sauce. Top with breadcrumbs and the leaves of thyme.
Bake for 20-25 minutes until bubbling. Serve and enjoy!