Autumn Pumpkin Houmous
Autumn Pumpkin Houmous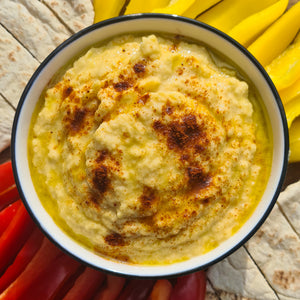 Enjoying pumpkin season with this dreamy, vegan recipe! Pumpkin houmous, best served with an array of your favourite veggies and pitta bread.
You can shop the ingredients here!
Ingredients;
Method;
Preheat the oven to 180C.
Prepare the pumpkin by cutting it in half, scooping out the seeds, removing the outer skin, and chopping the pumpkin flesh into 2cm squares. 
Coat the bottom of a pan in olive oil and add the pumpkin and garlic with salt to taste. Toss, to ensure the pumpkin and garlic is evenly coated with olive oil and salt. Roast for 45 minutes until golden brown and soft. Leave to cool.
Blend all of the ingredients into a food processor, including the juices from the roasting tin.  Leave some paprika to sprinkle on top.
Serve in a pumpkin or in a dip bowl with chopped veggies and pitta.