Prawn & Chorizo Paella with Fresh Peas
Prawn & Chorizo Paella with Fresh Peas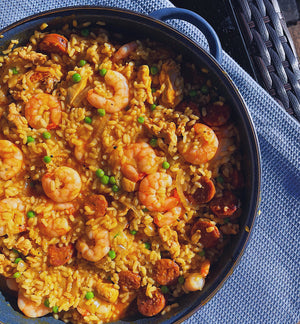 This Valencian dish is always a winner, traditionally cooked over an open fire, this is a lively and colourful recipe. Paella packs in a beautiful combination of flavours and textures. Serve this with a side of Spanish potato omelette. 
You can shop the ingredients here! 

Ingredients;
Method;
Heat the oil in a large frying pan. Finely chop the onion and then fry for until softened (roughly 5 minutes).
Add in your chorizo and cook for a further 5 minutes until the juices start to release. 
Stir in the rice and cook for around 39 seconds, then add the paprika, garlic, cayenne and saffron, cook for another 30 seconds, then stir in the chopped tomatoes and 1.5 litres vegetable stock. 
Bring the mixture to the boil, then turn down to a simmer, stir often to make sure nothing sticks, cook for about 10 minutes. Then add in your prawns and peas. 
Put the lid on or cover the pan, and cook on a low heat for another 10-15 minutes until the prawns are cooked through. Scatter over the parsley and a squeeze of lemon juice before serving.