Candied Lemons
Candied Lemons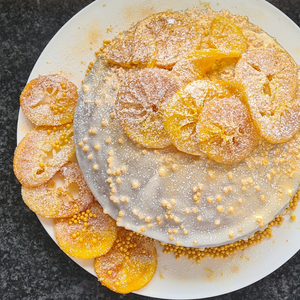 We definitely aren't feeling drizzly with this one! Candied lemons are so easy to cook and make a beautiful topping for your favourite lemony desserts. This recipe can also be used o make candied oranges and limes!
Ingredients;
Method;
Cut the lemon into thin slices using a sharp knife.
In a large, wide pan add the water and heat until simmering. Then add the sugar and stir until dissolved.
With the water still lightly simmering, gently add the lemon slices into the pan. Cook for 45 minutes or until translucent. Try not to move the lemons too much or it could damage them.
Lay the lemons out onto a tray lined with baking paper. Either let them dry overnight or bake the lemons at around 90°C for an hour or until they become stiff. 
Let them cool and eat them as they are or decorate your desserts!