Pork belly with leek & carrot gratin
Pork belly with leek & carrot gratin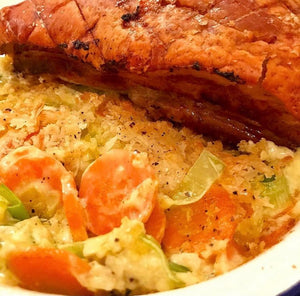 This creamy, cheesy vegetable bake is the perfect accompaniment to any kind of meat or even fish. We served ours with slow roasted pork belly from Hepburns.
Ingredients:
Method:
Preheat the oven to its highest setting, while it's heating score the skin of the pork belly to ensure really crispy crackling.  Take care not to penetrate the flesh or it will dry out.  
Put the meat in a baking tray and sprinkle generously with salt, then rub in to the score you've just made.  Blast in the oven for 20 minutes and then reduce the heat to 160 and cook at this temperature for two hours.
Once the meat has been cooking for an hour and 40 minutes, heat the oil in a non-stick pan, add the garlic and cook until it's fragrant but not coloured.
Add the leeks and carrots to the pan, fry gently until they soften but retain some bite.
Add lemon juice to the veg and give it a good stir to combine.
Add the tub of creme fraiche to the veg and allow to melt into the veg, once it started bubbling give it a good stir and then take off the heat
Transfer the gratin to an oven proof dish and top with the breadcrumbs and cheese.
After two hours check on the pork and if the crackling isn't nce your to your liking, give it another blast on the highest oven setting, but keep your eye on it so as not to burn, then take out of the oven and rest.
Preheat your grill to medium and put your gratin under it, keeping a close eye on it, taking out once it's golden and bubbling.