Peach and raspberry Pavlova
Peach and raspberry Pavlova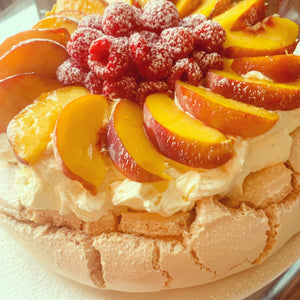 Pavlova is a crowd pleaser and the perfect way to use up egg whites from making spaghetti carbonara (recipe here). We've used peach slices & raspberries to top ours but any fruit you like will work.
Ingredients:

For the meringue
To top
Heat oven to 150C/130C fan/gas 2
Using a pencil draw around a medium-sized dinner plate
Whisk 4 egg whites either with a stand or hand mixer (if you don't have these you can do by hand) until they form stiff peaks, then whisk in 250g caster sugar, 1 tbsp at a time, until the meringue looks glossy.
Whisk in 1 tsp white wine vinegar & 1 tsp cornflour
Spread the meringue inside the circle, creating a crater by making the sides a little higher than the middle.
Bake for 1 hr, then turn off the heat and let the meringue cool completely inside the oven.
Whisk the cream with the icing sugar then spread over the meringue and top with the raspberries and peach slices
Need the ingredients? Try Watts Farms. We're an online farm shop offering all sorts of fresh produce and branded favourites. Take a look today.