Crispy layered potatoes in goose fat
Crispy layered potatoes in goose fat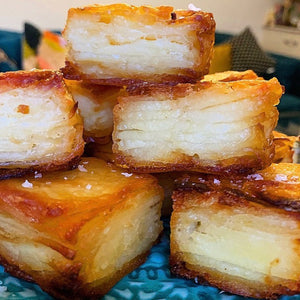 Minimal ingredients but maximum wow factor, these double-cooked crispy potatoes can be prepped in advance before a final roasting in the oven in the smoking hot goose fat. We like to serve ours with Steak and our favourite seasonal vegetables.
Ingredients:
Method:
Peel the potatoes and slice using a mandolin into thin even slices
Combine the melted butter, garlic and chicken stock in a bowl.
Take a 20cm square cake tin and use a pastry brush to lightly grease the bottom and sides of the tin.
Line the bottom of the tin with potato slices overlapping them slightly so there's no gaps, then brush drizzle with the stock/butter mix and repeat until the tin is full.
Cover tightly with tin foil and bake in a 180 degree oven for one hour, test with a skewer to check they're cooked all the way through.
Leave to cool and then place a piece of cardboard on top of the foil and weigh down with some weights or tins for a few hours to ensure the potatoes are evenly compressed.
Half an hour before you're ready to roast, cut into 12 and freeze for 30 minutes until semi-solid. Meanwhile spoon the goose fat into a baking tray and heat in a 200 degree oven until shimmering.
Carefully slide the potatoes into the fat and baste, turning midway through cooking (and again if they need it) - being VERY careful at all times! They should take 30 mins in the oven but keep your eye on them so as not to overcook.