Jack O'Donovans Puff Pastry Tart with peas, broad beans, buffalo mozzarella and crispy prosciutto
Jack O'Donovans Puff Pastry Tart with peas, broad beans, buffalo mozzarella and crispy prosciutto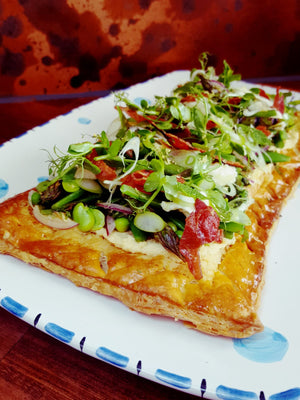 Enjoy some of the very best vegetables of the season with this delicious tart, created by Chef Jack O'Donovan. Topped with buffalo mozzarella and crispy prosciutto it can be served as a decadent starter or great as a main with your choice of sides.
Serves 4
Prep time – 20mins
Cook time – 20 -25 mins

Recipe
Method
Preheat the oven to 200c /180c fan /gas 6
Roll out the pastry to 2-3mm thickness , using a sharp knife score 2cm in from the edge to create a border, (score a pattern within the border if you wish at this point), brush the border generously with the beaten egg yolk then bake for 20-25 minutes until golden and crispy, leave to on side to cool down.
Bring a pan of seasoned water to the boil, add the broad beans and simmer for 30 seconds, chill in iced water then remove the outer skins, add the remaining veg except the asparagus and cook for 1 minute, refresh in iced water then drain and set to one side.
Heat a griddle pan until smoking, drizzle the asparagus with a touch of oil, season with salt and pepper then grill for 2-3 minutes until there are charred lines and cooked all the way through.
Place the prosciutto under the grill for 3-4 minutes until crispy.
To assemble the tart, push the centre of the pastry down carefully leaving the raised 2cm border, spoon the houmous on the base then smooth over. Mix the cooked vegetables, grilled asparagus and chopped herbs together with a pinch of sea salt and freshly ground black pepper, lemon juice and extra virgin olive oil then place on top of the houmous, garnish with crispy prosciutto, buffalo mozzarella, pea shoots and spring onions.
Take a look at our fruit and veg box delivery for more seasonal produce.