Nick Woods ULTIMATE Vegetarian Burger!
Nick Woods ULTIMATE Vegetarian Burger!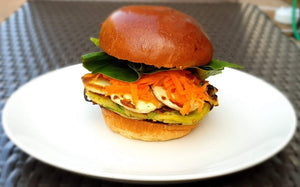 Don't think we would forget the non-meat eaters this bank holiday weekend! Nicks got you covered with this incredible ULTIMATE veggie burger, packed with lots of goodies... And who doesn't LOVE halloumi??
For the Pickled Carrots (this needs to be prepared the night before);
20g caster sugar
60g white wine vinegar
1 large carrot, peeled & grated
Method;
Combine sugar and vinegar and warm through to dissolve the sugar, once dissolved take off the heat and allow to cool
Once cold add the carrots and cover
Leave for at least 1 hour or overnight, then drain well.
For the Courgette Burger;
Ingredients;
60g Courgette cut into thin strips with a Chinese mandolin (courgettes must be dry, if wet you will need to squeeze out the liquid carefully)
30g Butter, melted
40g Plain flour
½ Teaspoon Baking powder
Pinch of fine sea salt
40ml Milk
½ Egg
40ml Cold water
Touch of olive oil
Method;
Combine the flour, baking powder and salt in a bowl. Then add the milk and egg to make a thick batter.
Stir in butter, water & breadcrumbs
Mix the courgettes into the batter
Put a small amount of Olive Oil into a pan and warm through, enough to sizzle the batter
Shape the courgette mix into a burger shape and cook in the pan until golden on both sides.
Assembly
1 x brioche bun – toasted on both sides
15ml Sweet chilli sauce
45g Halloumi – sliced and pan fried
20g Pickled carrots (see recipe above)
Place courgette burger on the base of the toasted brioche bun
Then top with sweet chilli sauce, halloumi, pickled carrot baby gem
Add the top of the brioche bun
ENJOY!