Jack O'Donovan's Thai Beef Salad
Jack O'Donovan's Thai Beef Salad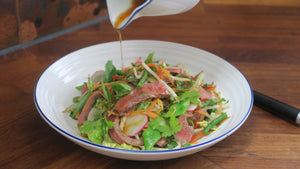 Jack O'Donovan's Thai Beef Salad
Serves 2-3 
Ingredients;

Recipe;
- 2 x Hepburn's sirloin steaks
- Olive oil for frying
- 1 Head baby gem lettuce shredded
- 5 radishes finely sliced
- 1/2 cucumber, deseeded and cut into batons
- 2 spring onions finely sliced
- 1/2 Red pepper finely sliced
- 1 x carrot finely sliced
- 1 thumb sized piece of ginger finely sliced
- Small handful of green beans
- Small handful of mange tout
- Small handful of bean sprouts
- 1 x green chilli, deseeded and finely chopped
- 2 Tbsp chopped mint leaves
- 2 Tbsp chopped coriander
- Sea salt and freshly ground black pepper

Dressing
- 2-3 Tbsp fish sauce
- 2 Tbsp dark soy sauce
- 1 small garlic clove finely grated
- 2 Tbsp sesame oil
- Juice and zest of 1/2 Lime

Method

Season the steaks generously on both sides. Add a dash of oil to a hot pan and fry the steaks over a high heat on either side for 2-3 minutes (medium rare). Hold the fat side of the steaks against the pan to render the fat. When cooked to your liking, remove the steaks from the heat and leave to rest, pouring any cooking juices on top.

Trim the ends of the green beans and mange tout, add to a pan of seasoned boiling water for 1 minute then plunge straight into iced water to retain freshness and stop the cooking.

Add all of the prepared vegetables to a large mixing bowl.

To make the dressing whisk all the ingredients together, add 3-4 Tbsp to the vegetables and mix well to combine.

Finely slice the steaks on angle and add to the vegetables.

Separate out into serving bowls and drizzle over the remaining dressing.