Nick Wood's Classic Margarita Pizza
Nick Wood's Classic Margarita Pizza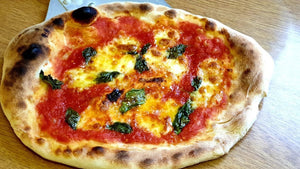 We've probably all been guilty of over indulging during lock down on those takeaways, but we're all in this together and we're here to inspire you to ditch the fast food and cook yourself at home - especially with this superbly easy DIY pizza.
Get the whole family involved and have some fun cooking in the kitchen!
For the Dough:
Place flour in a mixing bowl with sugar and salt on 1 side and the yeast on the other side.
Turn mixer on a slow speed and add water and oil and mix for 3 minutes to form a sticky dough.
Tip out on the surface and work the dough to develop the gluten, this should take a few minutes. Then bring dough together by folding.
Then dust a touch of flour on a bench, place dough on top, cover with a damp tea towel and leave for 20 minutes.
Then cut the dough into 3 balls and shape.
Place on a tray which has been dusted with a touch of flour, cover with cling film & leave in fridge for 24 to 48 hours.
Next day bring up to room temperature about 1 hour before cooking.
Then shape the dough, this does take a bit of practice.
For the sauce;
Drain of tomatoes & keep juice separate (this can be used in a sauce or dressing)
Sprinkle on a pinch of sea salt & using a hand blender, blend down to a smooth sauce consistency.
For the cheese;
Sprinkle evenly around the pizza

To Finish
 Sauce up the pizza dough leaving a couple of cm edge of the dough.
Top with mozzarella, basil leaves & drizzle over oil & season with sea salt.
Bake on a pizza stone from 250c above for around 90 seconds to 2 minutes until cooked. Either in a pizza oven, BBQ or conventional oven.
If you don't have a pizza stone, you can cook in a frying pan on a medium heat until the base is starting to cook & get colour, then finish under the grill.