Afternoon Tea Week Scones
Afternoon Tea Week Scones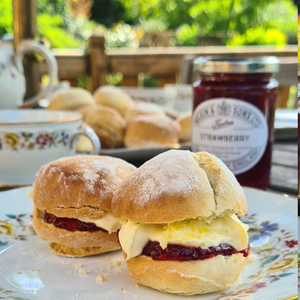 It's Afternoon Tea Week and to celebrate we are making some delicious homemade scones. Enjoy these scones with Tiptree jam, Roddas clotted cream and Teapigs Everyday Brew!
You can shop the ingredients here!
Ingredients -
Method -
Preheat the oven to 220°C and prepare a greased baking sheet to place the scones.
Add the flour and softened butter into a large mixing bowl and mix together using your fingertips.
Add the sugar and salt to the mixture and then little by little add the milk in.
Once all of the ingredients are combined, flour a clean surface and knead the mixture into a dough texture - adding more flour if too wet or more milk if too dry.
Once kneaded, roll out the dough using a rolling pin to about 2cm thick.
Using a pastry cutter (4 or 5cm) cut as many scones as you can out of the dough and place them onto the greased baking sheet.
Dust the scones with flour and place them in the oven for around 12-15 minutes until the scones are golden brown.
Wait to cool slightly and then serve fresh with jam, cream, and your favourite tea!