Luxurious Garlic, Butter, and Parsley Mushrooms
Luxurious Garlic, Butter, and Parsley Mushrooms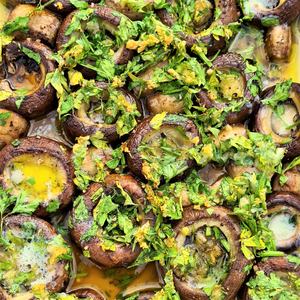 These flavourful mushrooms are the ideal side for any meat or fish dish. Alternatively this would be a fantastic main for vegetarians or vegans (just swap out the butter for a vegan butter)!
You can shop the ingredients here!
Ingredients;
Method;
Preheat the oven to 180°C
Thoroughly wash and completely dry the mushrooms
Fry the mushrooms in olive oil, salt, and pepper on both sides until softened. This will take around 10 minutes
Transfer the mushrooms to a baking dish and add the crushed garlic, chopped parsley, and spread the chunks of butter evenly around the dish to melt
Bake in the oven for approximately 10 minutes
Serve and enjoy!