Creamy Chilli Pasta
Creamy Chilli Pasta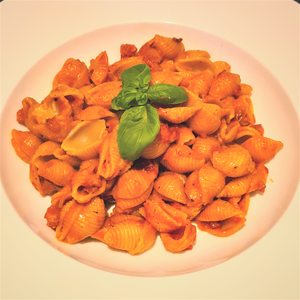 Chilli Pasta is an absolute winner with the whole family. You can adjust the heat to suit your taste! Really simple to make, but a delicious, creamy comfort food. 
You can shop the ingredients here!
Ingredients;
Method;
First fry the bacon in a pan until a light golden colour
Once the bacon is cooked, set aside and cook the tinned the tomatoes with salt and pepper on a low heat in the bacon juices for about 10 minutes
Meanwhile, boil some water in a saucepan. When up to temperature add a generous amount of salt (Italians say it should be as salty as the sea!)
Add the pasta to the boiling water. Cook as per the instructions
Once the tinned tomatoes have reduced and the pasta is almost done, sprinkle in dry chilli flakes. You can make this as spicy as you like
Then stir in the double cream and parmesan
Once the pasta is cooked, stir it into the creamy sauce
Sprinkle some extra parmesan on top and serve!