Jack O'Donovan's Herb Crusted Rack of Lamb, sweet potato mash, barbecued cabbage & salsa verde
Jack O'Donovan's Herb Crusted Rack of Lamb, sweet potato mash, barbecued cabbage & salsa verde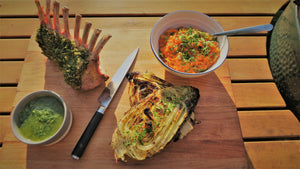 Looking for some Sunday Roast inspiration? Try Jack O'Donovan's amazing twist on the classic Sunday Lamb Roast dinner, surprisingly cooked on a BBQ for when the UK sunshine comes out!
Recipe
Serves 2-3

Sweet Potato Mash
see more about our potato delivery.

Barbecued Cabbage


Salsa Verde

Method
Pre heat the oven or barbecue to 200c (I Cooked everything on the barbecue)
Put the breadcrumbs, herbs, zest and garlic into a food processor, blitz until coarsely chopped, add olive oil, grated parmesan and seasoning then mix well.
Heat a splash of olive oil in a cast iron pan, season the lamb then render down the fat until crispy, sear the lamb on all sides then take off the heat, turn the lamb fat side up and brush generously with Dijon mustard, apply the herb crust evenly making sure to press firmly into the lamb. Cover the bones with some foil to prevent them going dark when cooking.
Remove the outer leaves from the cabbage, cut in half lengthways, wash thoroughly then place into a foil parcel with the butter, seasoning and olive oil, put in the oven or barbecue for 30 minutes or until softened, remove from the foil and set aside.
Cook the lamb for roughly 15 - 20 minutes until the crust is golden and crispy, you are looking for an internal temperature of 53c - 55c, this will ensure that the lamb is cooked pink, leave to rest for 10-15 minutes before carving.
While the lamb is cooking remove the skins from the sweet potatoes, mash with a fork then mix with all of the vegetables, herbs and lime then season to taste.
To make the salsa verde, finely chop the herbs, capers and anchovies together, add to a bowl, mix in the mustard, sherry vinegar, minced garlic and lemon zest, slowly add the oil until you get the right consistency, season with sea salt and a touch of freshly ground black pepper
While the lamb is resting crank up the heat on the barbecue , place the cabbage onto the grill for 2-3 minutes or until nicely charred,
Carve the lamb and enjoy!