Vine Tomato Bruschetta with Italian Pea and Broad Bean Pesto
Vine Tomato Bruschetta with Italian Pea and Broad Bean Pesto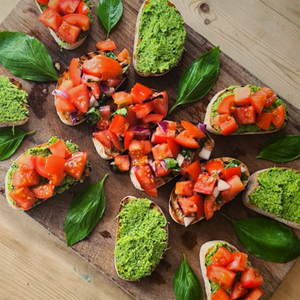 We're celebrating British Tomato Fortnight with this fantastic seasonal recipe! This deliciously fresh and light recipe is incredibly versatile. Perfect as an hors d'oeuvre, starter, light lunch, or even mixed into a luxurious pasta. Best served with a crisp, light white wine or prosecco.  
Ingredients –
For the Italian broad bean and pea pesto:
For the bruschetta:
Method -
Begin making the pesto by roasting the garlic bulb. Preheat the oven to 200˚C. Chop the top off the garlic by cutting around 2cm from the top of the cloves. Remove the outer layers. Put the garlic into a baking pan, drizzle with 2tbsp olive oil, and generously season with salt and pepper. Cover with tin foil and roast for about 30 minutes until the garlic is soft and golden. Leave to cool completely.
Simmer the peas and broad beans in a saucepan for around 2 minutes. Then, rinse under cool water until completely cool and drain.
Once cool, remove the beans and peas from their skins and place in a food processor. Then squeeze in the roasted garlic, add the remaining olive oil (including the flavoured garlic olive oil used to roast the garlic), basil, pine nuts, parmesan, and salt to taste. Blend into a rough pesto.
Then prepare the tomato bruschetta topping. Chop and drain the tomatoes and finely chop the red onion and basil leaves. Mix in a bowl with crushed garlic and drizzle the olive oil on top.
Slice the bread into medium-thick slices. Place on a griddle or lightly toast in a pan until golden brown.
Top the bread with the pesto and tomato mix and serve!