Indulgent Chocolate Brownie Heart
Indulgent Chocolate Brownie Heart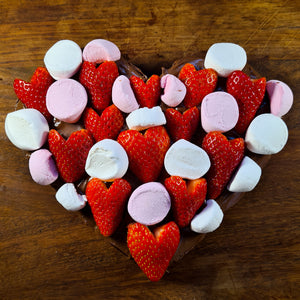 We're enjoying this chocolate heart brownie topped with fresh strawberries and marshmallows. Perfect for celebrating either Valentine's or Galentine's!
You can shop the ingredients here!
Ingredients;
For the brownie
For the topping
Method;
Preheat the oven to 160°C
Cover a 20x20 cm pan in baking paper
Place the water, olive oil and egg in a medium bowl and whisk until fully mixed
Add the brownie mix and stir until well blended
Pour the into the pan and bake for 45 minutes
Once cooked leave to cool completely in the pan
When the brownie is completely cool, remove the brownie from the pan and cut into a heart shape (enjoy the cuttings as you bake, you deserve it!)
Generously coat the brownie in Nutella and top with strawberries and marshmallows
Serve and indulge!