Date Night Steak and Chips
Date Night Steak and Chips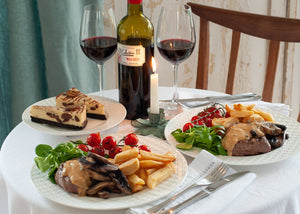 Everything you need all in one box for a romantic meal for two... Our Date Night Steak and Chips Box includes steak, chips, peppercorn sauce, tomatoes, lambs lettuce, mushrooms, two cheesecakes, and of course, a delectable bottle of Malbec red wine. Here's how to cook it!
You can shop the ingredients here!
Ingredients;
Date Night Steak and Chips Box including:
Twin pack pedigree breed fillet beef steaks
Pack of Oven cook Cheshire farm chips
Peppercorn Sauce
Cherry Vine tomatoes (for roasting)
50g lambs lettuce (as a garnish)
Pack of Large Flat mushrooms (for grilling)
Twin pack of Rhokett Chocolate Cheesecakes
70cl bottle of Malbec red wine.
Methods;
Cheshire Chips:

Spread the chips out on a baking tray and put in a preheated oven at 200⁰C or gas mark 5. Cook for 15-20 minutes or until golden brown.

Cherry Vine Tomatoes:

Wash and keep them on the vine.
Place in an oven dish, drizzle with olive oil and season.
Bake in a pre-heated oven on 200⁰C or gas mark 5 for 12-15 minutes.

Large Flat Mushrooms:

Put the grill on a medium heat, and place your mushrooms in an oven dish with the stems facing up.
Drizzle in olive oil and season generously.
Cook under the grill for 10-15 minutes, they should look dark in colour once cooked.

The Steak:

Heat up your pan, adding a small amount of oil & season your steak.

Blue - 1½ mins each side.
Rare: 2¼ mins each side.
Medium-rare: 3¼ mins each side.
Medium: 4½ mins each side.

Peppercorn Sauce:

Place over a moderate heat for approximately 3-4 minutes, stirring occasionally.

Now for the fun part! Plate up, wash the lambs lettuce and add as garnish, pour your wine and enjoy!