Easy Home Made Ice Cream
Easy Home Made Ice Cream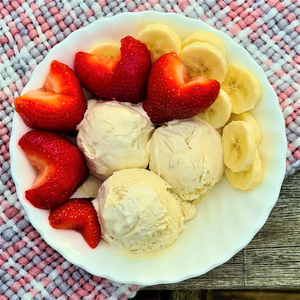 Celebrating National Ice Cream Month with our easiest ever homemade ice cream recipe. You can get creative with the flavours, but we of course recommend using our fresh fruit to flavour your recipes!
You can shop the ingredients here!
Ingredients -
Method -
Using a fork or a blender, crush your optional extras either into a paste or small pieces.
Add all of the ingredients into a large bowl and mix until it turns into a thick and creamy consistency.
Thoroughly stir in your optional ingredients and pour into a suitable tin (covered) to place in the freezer. Freeze for around 6 hours or until completely solid. Serve with plenty of toppings and enjoy!