Courgette & Proscuitto Puff Pizza
Courgette & Proscuitto Puff Pizza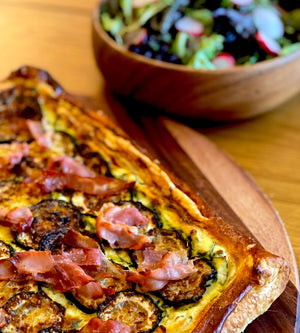 This one is a real winner with the whole family! A slightly healthier option to pizza but tastes just as amazing. Great to cut up and serve as small bites at a party or to indulge in by yourself - we don't judge!
You can shop the ingredients here!
Ingredients -
Method -
Preheat the oven to 180C fan/200C/ gas 6. On a clean dry surface, spread a little flour and roll out the puff pastry. Using a rolling pin gently roll it out so it's thinner. Beat one egg in a small bowl and brush a thin layer over the edges, then fold the edges so you have a small ridge. Lift the tart onto a grease proof paper lined baking tray. 
In a separate bowl, mix together the ricotta, 2 other eggs and majority of the basil (reserve some to decorate at the end). Spread the mixture over the tart, leaving the ridged edge. 
In a large frying pan heat the olive oil and fry the courgette slices until they start to get a nice golden colour, remove and dab with kitchen roll to remove the excess oil.
Once cooked, start placing the courgette on top of the ricotta mixture, overlapping slightly until the whole pizza is covered and place in the middle of the oven. Cook for 25 minutes.
Remove from the oven and lays the prosciutto over, this doesn't have to be neat it will shrink. Place back in the oven and cook for a further 5 minutes.
Remove from the oven and serve immediately. Enjoy!