Healthy Courgette & Parmesan Crisps
Healthy Courgette & Parmesan Crisps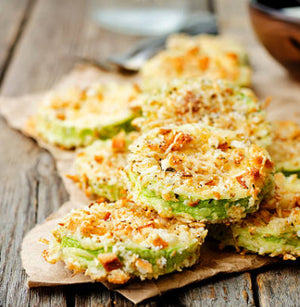 We've all been there, craving the carbs but wanting to keep healthy! These cheesy courgette crisp alternatives are the perfect way to curb those cravings, with the added bonus of being incredibly tasty and easy to make!
Serves 4 people
Ingredients
Method
Line your baking tray with grease proof paper (you may need two depending on size of tray). Pre-heat your oven to 210 degrees/Gas mark 7.
Slice the courgettes into rounds, around 5mm thick - you can slice thinner for a crunchier crisp. Place your rounds into a mixing bowl.
Add the olive oil into the courgettes. In another bowl mix together the breadcrumbs, Parmesan and pepper.
Dip each courgette into the breadcrumb mixture, ensure it is coated evenly and press to make the coating stick.
Lay the crisps out evenly on the tray and back the rounds in the oven for 25-30 mins, or until they are browned and crisp.
Remove from the oven and serve warm.
 We offer seasonal fruit and veg boxes for delivery in Kent for more seasonal produce