Pickled watermelon
Pickled watermelon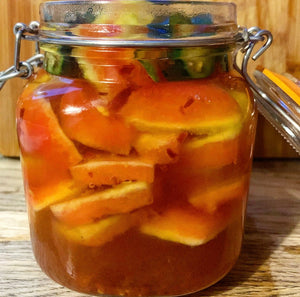 Love watermelon but hate food waste? These pickled watermelon rinds are a delicious and healthy snack or garnish, delicious in tacos too!
Ingredients:

400g watermelon rind with a little flesh still attached
275ml water
4 tsp salt
Method:
Peel the hard skin off the melon rind and cut into bitesize chunks.
Put the water, 1vinegar, chilli flakes, four teaspoons of salt and the sugar in a saucepan, bring to a boil, add the rind, return to a boil and turn off the heat.
Fill a clean kilner or jam jar (1L preferably) with the pickled watermelon and juice and top with sliced chilli or jalapeño.
Once cooled they are ready to eat and will keep in the fridge for up to a month.