Easy kale crisps
Easy kale crisps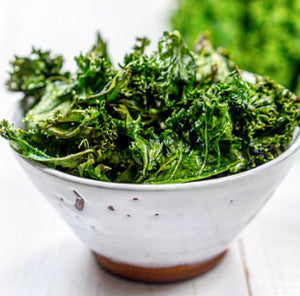 A healthier alternative to regular crisps, use kale to make a light, crispy and moreish snack that you can serve simply salted and dress lightly with vinegar or Tabasco for an extra kick of flavour after cooking.
Ingredients:
Method
Toss the kale pieces in a 2 tbl spoons of olive oil, spread across a large baking tray lined with baking parchment and scatter with salt
Bake in a 180 oven and after about 10 minutes give it a good stir to ensure even cooking and then pop back in the oven for another five minutes or so, keeping your eye on it to make sure it doesn't burn.
Add a little more salt to taste/if needed.
We offer seasonal fruit and veg boxes for delivery in Kent for more seasonal produce