Haunted Brownies
Haunted Brownies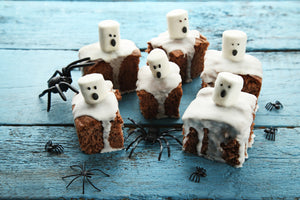 We know this Halloween is going to be a little different, and we want to help you make it as fun as possible! So get out your mixing bowls and get the kids in the kitchen to make these tasty ghostly treats!
Ingredients;
Method;
Cut the unsalted butter into small cubes and tip into a bowl. Break the dark chocolate into small pieces and drop into the bowl.
Fill a small saucepan with warm water, then sit your bowl of butter and dark chocolate on top so it rests on the rim of the pan, not touching the water. Put over a low heat until the butter and chocolate have melted, stirring occasionally to mix them.
Remove the bowl from the pan. Whilst you wait for the chocolate to cool, position a shelf in the middle of your oven and turn the oven on to 180C/160C fan/gas 4.
Using a shallow 20cm square tin, cut out a square of non-stick baking parchment, enough to line the base.
Sieve the flour and coco powder into your melted butter and chocolate mixture.
Chop the white chocolate and the milk chocolate into chunks.
Crack 3 large eggs into another large bowl and tip in the golden caster sugar.
Whisk the eggs and sugar until they will look thick and creamy. 
Pour in the cooled chocolate mixture, and then gently fold together. 
Sift your cocoa powder into the mixture and gently fold until fully combined.
Stir in the white and milk chocolate chunks until they're dotted throughout.
Pour the mixture into the prepared tin, and ease the mixture into the corners of the tin. Smooth the top with a spatula to create an even surface.
Place the tray in your pre-heated oven and bake for 25 minutes.
After 25 minutes, pull out your tray and gently shake, if the middle wobbles then the brownies need an extra 5 minutes.
Remove from the oven and allow to cool in the tin
Whilst your brownies are cooling, get your icing sugar adding a small amount of water until it's a gooey consistency - if you add too much water put in a little more icing sugar, you don't want it to be too runny!
Take out your marshmallows' and with a small painting brush, paint on some eyes and mouth with your black food dye.
Once cooled, cut your brownies into squares and using a spoon drizzle your icing sugar onto the brownies - there's no art to this, just have fun! Then add your marshmallow ghost on top and ENJOY!