Halloween Cookie Monster!
Halloween Cookie Monster!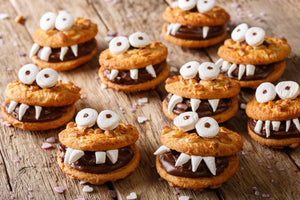 Here at Watts we think it's safe to say everyone love a cookie, and Halloween is the perfect reason to get baking and eating! This easy recipe is perfect for keeping the kids occupied in the kitchen and keep that Halloween spirit alive!
Ingredients;
Method;
Preheat your oven to 180 C (350 F) standard / 160 C (320 F) fan-forced
Line two baking trays with baking parchment
Add in your butter and sugars to a large mixing bowl, and beat together until smooth and creamy.
Add in your egg and vanilla extract, beat again until combined. Don't forget to scrape down the sides to combine the whole mixture.
Add flour, baking soda and beat again until a soft cookie dough forms. Add the chocolate chips and stir.
 Spoon roughly 1.5 tablespoons of dough and roll them into small balls, then place on the baking trays and flatten slightly
Place in oven for 10-11 minutes or until golden brown on the edges.
Remove from the oven and leave to cool for 5 minutes, then transfer them onto a wire rack to fully cool.
Cut your marshmallows into triangles for the teeth and smaller circles for the eyes, put a small dot of chocolate onto the circles to create an eyeball effect.
Once the cookies have cooled a little, spoon in some of the Nutella, enough to create a gap to stick the cookies together as well as the teeth.
Add a little Nutella on top to stick on the eyes and ENJOY!