Raspberry & Marshmallow Eye-Ball Smoothie!
Raspberry & Marshmallow Eye-Ball Smoothie!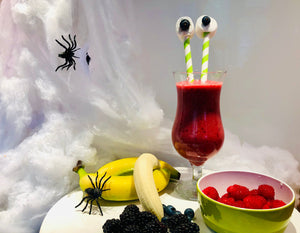 Make smoothie fun with this healthy Halloween drink! We're all about our five a day here at Watts, and this smoothie recipe will certainly get you off to a good start - with a little added extra fun -  the kids won't be able to resist this healthy treat.
Ingredients;
Method;
Take two straws and two marshmallows and gently press the straws into the sweets. 
Put the chocolate chips in a microwave-safe bowl and cook for 30 seconds then stir until the chocolate is melted. Wait for the chocolate to cool a little then drop two small chocolate 'drops' on to the marshmallows and pop them in the fridge for 10 mins to set.  
Mix the chilled milk, bananas, raspberries and blackberries in a blender.  
Serve in a tall glass and enjoy!