Dreamy, Creamy Jerusalem Artichoke Soup
Dreamy, Creamy Jerusalem Artichoke Soup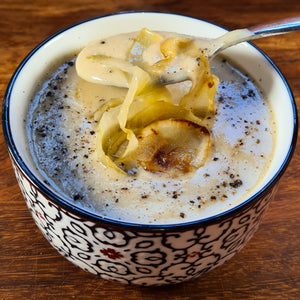 Creamy, velvety, seasonal Jerusalem Artichoke soup. Tasty and incredibly good for the digestive system! 
You can shop the ingredients here!
Ingredients;
Methods;
Prepare the Jerusalem artichoke and slice, chop the onion, mince the garlic, and prepare the vegetable stock in preparation of making the soup
Heat the butter in a pan and cook the onions and Jerusalem artichokes until golden and caramelised
Add the garlic and cook until also golden, then add the vegetable stock  and milk. Bring to the boil and then reduce the heat to simmer for 10 minutes. Add salt and pepper to taste.
After 10 minutes, add the rosemary sprigs and cook for a further 10 minutes.
Once cooked, carefully remove the rosemary and blend the soup using a blender or food processor. 
Serve, top with plenty of freshly ground pepper, and enjoy with some delicious crusty bread!