Easy-Peasy Cauliflower Cheese
Easy-Peasy Cauliflower Cheese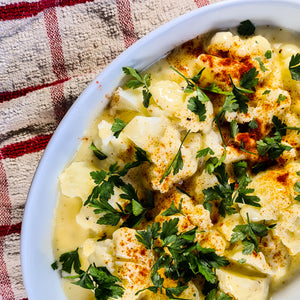 Easy-peasy cauliflower cheese, topped with paprika and fresh parsley. Of course, using our beautiful Kentish Cauliflower which makes it taste just that much better!
You can shop the ingredients here!
Ingredients;
Method;
Preheat the oven to 200C
Separate the cauliflower into florets
Steam or boil the cauliflower until soft (approximately 8 minutes)
In a separate saucepan, melt the butter over a medium heat
Add the flour and mustard and whisk until combined
Gradually add the milk, whisking until fully combined
Then add the cheese, salt and pepper and stir in until melted
Transfer the cauliflower to a baking dish and pour the sauce over 
Top with an extra cheese and a sprinkling of paprika and put in the oven for about 15 minutes or until golden brown
Remove from the oven and scatter the fresh parsley
Serve and enjoy!