Garlic & Sesame Purple Sprouting Broccoli
Garlic & Sesame Purple Sprouting Broccoli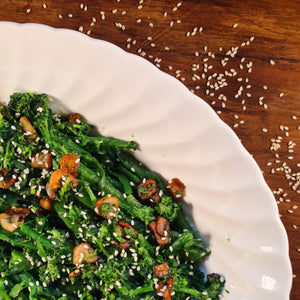 A match made in heaven? Perhaps so with gorgeous seasonal Purple Sprouting Broccoli, Sesame and Garlic!
You can shop the ingredients here!
Ingredients;
Method;
Peel and finely slice the garlic cloves
Boil the broccoli in salted water for 2 minutes. Drain thoroughly
Heat the sesame oil in a separate pan over a medium heat
Fry the garlic in the oil for 2-3 minutes until a light golden brown
Add the broccoli and coat with the garlicky oil. Fry for just a couple of minutes
Sprinkle over the sesame seeds and serve steaming hot!