Doughnut French toast
Doughnut French toast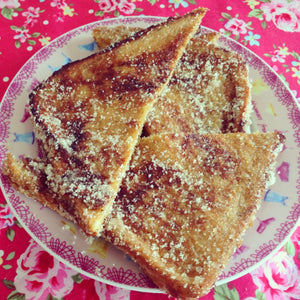 We can't pretend this is the healthiest of breakfasts , but if you're looking for a tasty treat for weekend brunch, then we can highly recommend this - quick and easy to make, you can garnish with fresh fruit or to make it extra decadent, one of our award winning Burtree sauces!
Ingredients:
2 large eggs
4 tsp vanilla extract
60ml full fat milk
25g butter
1 tbsp caster sugar
Method:
Put large eggs in a shallow bowl with 4tsp of vanilla extract or vanilla bean paste and beat together with the milk
Soak two slices of white bread (any type will do) in the eggy mix until it's absorbed pretty much all of it
Melt the butter with a bit of oil in a pan until bubbling and then slide the eggy bread in to the pan.  
Cook on each side for 3-4 minutes taking care when you turn it over
Spread caster sugar over a plate and turn the french toast over and over in it until it's coated like a doughnut.