Harissa, sweet potato and spring onion fritters
Harissa, sweet potato and spring onion fritters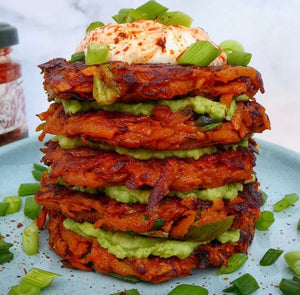 Last week was all about stacks of pancakes but this week it's stacks of fritters.  Emily Scott made these delicious sweet potato, harissa and spring onion fritters using her Watts order and we will definitely be recreating them ASAP! Give her a follow on Instagram for lots more breakfast recipe inspiration @whatiateforbreakfast
Ingredients:
x1 medium sweet potato
2 spring onions, chopped
1/2 tbsp plain flour
1 large egg
1.5 tsp harissa paste
1/2 ripe avocado
Lime juice
1 tbsp natural yoghurt
Salt and Pepper
Method:
 Wash & grate a medium sweet potato (I leave the skin on as it's a source of fibre & just give it a good scrub under the tap).
Squeeze out any excess liquid in a clean cloth/tea towel (this is key to prevent soggy fritters).
 Mix the sweet potato with the spring onions, flour, egg, harissa paste and a pinch each of salt & pepper.
Heat a large non-stick pan with a little oil/spray and spoon the mixture into rounds, using around 1 tbsp per fritter.
Cook on each side for 2-3 mins or until crispy.
Layer the fritters with half a mashed avocado mixed with a pinch of salt & squeeze of lime juice. Garnish with extra chopped spring onion and harissa yoghurt if desired, then serve.
For the harissa yoghurt, I stirred 1/2 tsp harissa paste into 1 tbsp natural yoghurt. Enjoy!