Courgette, lemon and crispy bacon spaghetti
Courgette, lemon and crispy bacon spaghetti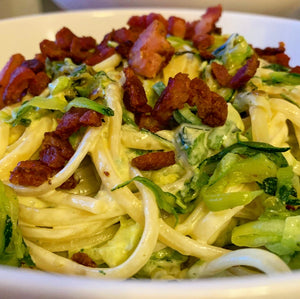 It's definitely cosying up with a bowl of pasta weather and this creamy and delicious spaghetti is the epitome of comfort food. You can make it dairy free by substituting the the yoghurt and creme fraiche for Oatly or Alpro alternatives.
Ingredients:
Serves 2-3 people depending on appetite
Method:
Fry the bacon in a slug of olive oil until golden and crisp
Drain off some fat and add the courgette and fry for 2-3 mins or until soft
Cook the spaghetti in lots of salted boiling water for about a minute less than the packet says
Mix together the yoghurt, creme fraiche, egg yolks, parmesan & lemon zest with a good grinding of black pepper to make a sauce
Drain the pasta leaving a couple of tbsps of water in the bottom of the pan, return the pan to a low heat and add the sauce mixing well to combine, then toss in the bacon and courgette.  Serve with a little more grated parmesan and black pepper to taste.
Take a look at our fruit and veg boxes for more seasonal produce.