Classic Victoria Sponge
Classic Victoria Sponge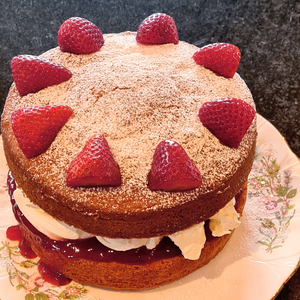 The classic British recipe, just in time to support Team GB in the Olympics. This is an oldie but a goodie and can be topped or stuffed with our delicious, seasonal Kentish strawberries!
You can shop the ingredients here!
Ingredients;
For the cake:
For the filling:
Method;
Preheat the oven to 170°C
Grease two 20cm wide tins and line with baking paper
Simply add all of the cake ingredients to a large mixing bowl and combine using a hand mixer
If the mixture is too dry, add a splash of milk to loosen it 
Spoon the mixture into the cake tins and bake in the oven for 30-35 minutes
Once cooked, place on a wire rack to cool.
Once completely cooled, spread the jam between the two cake slices
Whip the cream into thick peaks and spoon inside on top of the jam
Lastly, dust the cake with icing sugar and place cut strawberries on top
Serve and enjoy!