Couscous Stuffed Red and Yellow Bell Peppers, Topped with Halloumi and Thyme
Couscous Stuffed Red and Yellow Bell Peppers, Topped with Halloumi and Thyme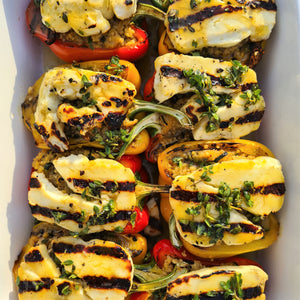 Red and yellow bell peppers, stuffed with couscous, courgette, tomatoes, onions, and halloumi. So delicious, yet so healthy! Serves 4.
You can shop the ingredients here!
Ingredients;
For the dressing:
Method;
Finely chop the onion and courgette into small pieces and halve the tomatoes, and peppers. Lastly, slice the halloumi.
Put the couscous into a bowl and add the hot vegetable stock and cover with cling film to cook for 10 minutes.
Preheat the grill for when this has absorbed.
In a pan, cook the onion and courgette in the butter until golden. Add in the tomatoes to cook for a minute at the end.
Uncover the couscous, stir in the cooked vegetables, and season to taste.
Grill the peppers for 4 minutes, cut sides face down. Once the peppers are beginning to char, turn them over, spoon in the couscous, and top them with halloumi pieces. Grill for a further 4 minutes.
While this is cooking prepare the dressing by mixing together the ingredients.
Remove the peppers from the grill, dress and serve!