Jolly Good Gingerbread Men
Jolly Good Gingerbread Men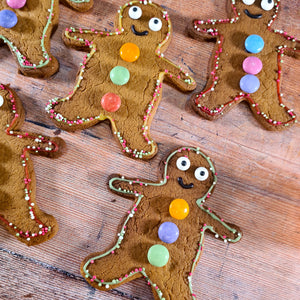 What's more festive than the smell of homemade gingerbread baking in the oven? Making your own gingerbread is so easy, no need to buy a ready-made packet! 🎁
You can shop the ingredients here!
Ingredients;
Method;
Preheat the oven to 200C
Melt the butter, Muscovado sugar and golden syrup in the pan until combined
In a large bowl mix the remaining ingredients and then slowly stir in the warm butter mixture.
Stir until it becomes a stiff dough
Roll out the dough to about 1 cm thick and use a cutter or freehand a gingerbread man shape in the dough 
Carefully place this on a lined tray and place this in the oven to cook for 11 minutes or until firm
Once completely cooled, decorate to your heart's content!