Chocolatey Christmas Tree Brownies
Chocolatey Christmas Tree Brownies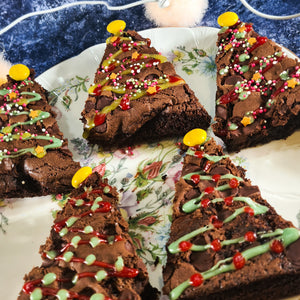 All of this Christmas cheer is getting us all creative at Watts HQ and we can't get enough of these incredibly indulgent Christmas brownies! 🎄🍫 They're super quick and easy to make with our Ghirardelli Triple Chocolate Brownie Mix!
You can shop the ingredients here!
Ingredients;
Method;
Preheat the oven to 160°C
Cover a 20x20 cm pan in baking paper
Place the water, olive oil and egg in a medium bowl and whisk until fully mixed
Add the brownie mix and stir until well blended
Spread the chocolate pellets across the bottom of the pan
Pour the into the pan, on top of the chocolate chips and bake for 45 minutes
Once cooked leave to cool completely in the pan
Cut the brownies into triangles and get creative with decorating!