Bacon and Chestnut Brussels Sprouts
Bacon and Chestnut Brussels Sprouts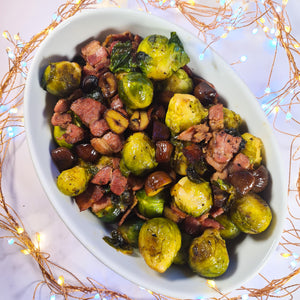 Only the best way to have Brussels Sprouts... Topped with loads of Bacon and Chestnuts! This truly is a dish even for those who hate sprouts (although we could never understand that)!
You can shop the ingredients here!
Ingredients;
Method;
Boil the washed and trimmed Brussels sprouts in a large pot (salting generously when up to temperature). Boil for 5 minutes, then drain the sprouts.
Chop the bacon into small strips and add to a frying pan. Fry until cooked through.
Set the bacon aside and add the chestnuts and sprouts to the pan. Add a splash of water, cover and cook for about 7 minutes, stirring occasionally.
Finally, add the butter, bacon, salt and pepper to the pan and heat until melted
Serve and enjoy!