Watercress soup with soft-boiled duck eggs
Watercress soup with soft-boiled duck eggs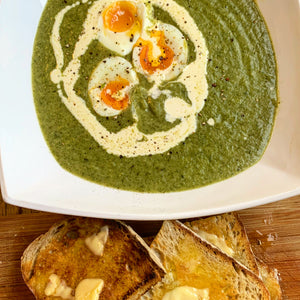 The peppery watercress is the star of the show in this vibrant green soup. Simply made with just a few ingredients, you can dress it up however you'd like, we've added a swirl of cream and soft-boiled duck eggs and served with toasted sourdough bread. All the ingredients required are available on our shop.
Ingredients:

Method:
Melt the butter and add all the veg bar the watercress, stir to coat with butter, cover with a lid and sweat for 20 minutes, stirring halfway through
Add the stock, bring to simmering point for 10 mins and then add the watercress for another five mins until all the veg are tender.
Meanwhile boil the eggs to your liking (we did ours on a rolling boil for six minutes) and then plunge into cold water to stop them cooking further, this also makes them easier to peel.
Remove your soup from the heat, allow to cool a little, season to taste and then liquidise. 
Top with the eggs and swirl with cream.