Panzanella salad with UK Heirloom tomatoes
Panzanella salad with UK Heirloom tomatoes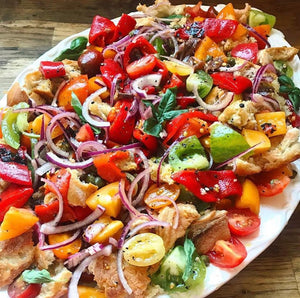 Make the most of UK tomato season with a Panzanella salad. Substantial enough to be a meal in itself, perfect as a side dish or part of a spread with a BBQ.
Ingredients:
Method:
Place the bread on a tray to dry out, this will help it to drunk up the juices and dressing.
Put the tomatoes in a bowl and season with salt and pepper. Rinse the capers, squeezing out any excess liquid and add to the bowl, along with the onion, peppers and bread.
Toss the mixture together with your hands, then stir in 2 tablespoons of vinegar and about 3 times as much extra virgin olive oil. Taste and add a little more seasoning or oil, if needed.
Tear in the basil leaves, stir together and serve.